Various Exhibitions
Charles Tunnicliffe's work was exhibited Royal Academy Summer Exhibitions
from 1928 to 1979 - about which there is a another page on this website.
To help earn a living as an artist he not only painted pictures for private
commissions, but also for exhibitions arranged by commercial art galleries,
especially The Tryon Gallery, and he called this his bread-and-butter work.
In 1938 an exhibition of his work was organised by Arthur Greatorex Ltd.,
Print Publishers and Dealers in Works of Art, 14 Grafton Street, London.
We do not have detailed information about the exhibits, but the story goes
that
the exhibition included a number of oil paintings on unprimed cloth,
probably on
linen and/or silk, and to Tunnicliffe's great disappointment
they did not sell.
The exhibition also included some of his
superb wood engravings
of birds and farm animals and presumably they did sell.
Ironically the oil paintings from this exhibition were in fact very
good are now sought after,
realising high prices at auctions.
During April and May 1953
there was an exhibition original watercolours
of "Bird Subjects",
on show in London, organised by Rowland Ward Ltd.


Charles Tunnicliffe also exhibited at the Manchester Academy of Fine Arts.
Several "commercial" exhibitions of Charles Tunnicliffe's artwork were arranged
by The Tryon and Moorland Galleries, as can be seen from the following images

based upon their exhibition catalogues and lists. Many of the titles are intriguing
as most of the paintings are now in private collections or homes and may never be
seen again in exhibitions - The Daylight Hours, Through the Flags, Welcome Thaw,
View to Arthur's Seat, Bubbly Jack, First Rain After Drought, Flowery Hover - ?
The Tryon Gallery - 1962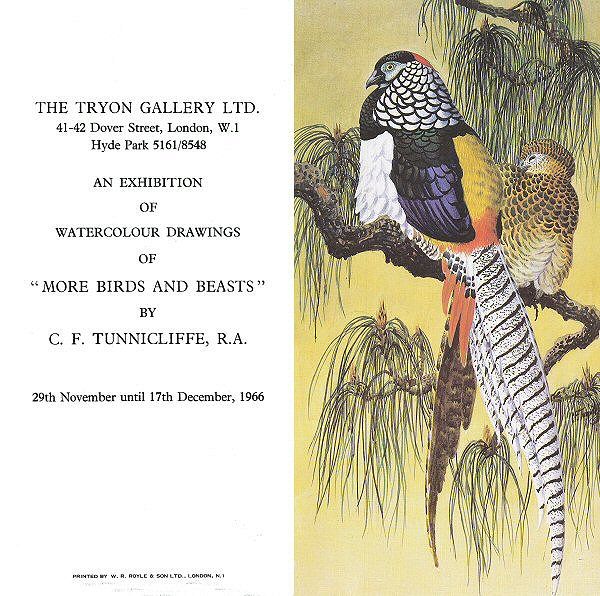 The Tryon Gallery - 1966
The Moorland Gallery Ltd - 1976
More information about any these Tunnicliffe exhibitions, and any others
during his lifetime, would be helpful, interesting and most welcome
.
Home Page
Website Index